RADkidsART Art Activity Book

Sweets Issue. Spring 2014

1) Draw Donuts 2) Texture Prints 3) Candy Wrapper Collage 4) Drawing Activities 5) Sweet Shoppe Maze & Coloring Page 6) Games & Puzzles 7) Candy Sculpture 8) Candy Collage 9) Ice Cream Truck Printable 10) Chocolate Bar Design
RADkidsART: Winter 2013/14
PROFILE PORTRAITS, 'BLOCK' PRINTING, STICKY NOTE ART, DRAWING ACTIVITIES, AIRPORT DOT-TO-DOT, PUZZLES, SIGN COLLAGE, LOGO DESIGN, MEMORY GAME, PEOPLE PICTOGRAMS
RADkidsART: RADkidsART Calendar 2014
RADkidsART Art and Activity book's 365 Days Color-Me 2014 Calendar, filled with project ideas and activities to draw and color in the calendar itself!
RADkidsART: Autumn 2013
BOOK COVER DRAWINGS, FELT HOMEWORK BOOKS, PENCIL TOPPERS, DRAWING ACTIVITIES, SCHOOL MAZE, T-SHIRT DRAWING, GAMES AND PUZZLES, FORTUNE TELLER, BOOK MARKS & BOOK PLATES, LUNCH BOX DESIGN
RADkidsART: Summer 2013
Accordian Books, Wire Sculpture, Continuous Contour Drawings, Treasure Map Scavenger Hunt, String Drawing, Nautical Flag Messages, Bag Tags, Postcards, Paper Boat, Seaside Drawings.
RADkidsART: Spring 2013
Art & Activity Book! Movable Mandalas, felt containers, power bands, drawing activities, board game, finger print drawings, games and puzzles, finger puppets, lettering design, museum drawings
FUNkidsART: FUNkidsART 2013 Calendar
JANUARY: Quilled Snowflake FEBRUARY: Heart Cards MARCH: Recycled Robots APRIL: Torn Paper Collage MAY: Costume Drawings JUNE: Paper Cut-Outs JULY: Totem Poles AUGUST: T-Shirt Stencils SEPTEMBER: Paper Mosaic OCTOBER: Jack O'Lanterns NOVEMBER: Nature FAces DECEMBER: Snowman Sculpture
FUNkidsART: Winter 2012
Art Studio Tips, Paper Pine Trees, Snowman Sculpture, Gesture Drawing, Quilled Snowflakes, Tape Painting, Heart Cards, Snow Globes, Winter Dioramas, Puzzles
FUNkidsART: Autumn 2012
Studio Storage tips (bonus!), Story Flags, Foam Mobiles, Jack O'Lantern Drawings, Nature Faces, Candy Wrapper Design, Cardboard Masks, Metal Engraving, Cereal Box Collage, Puzzles
FUNkidsART: FUNkidsART Summer 2012
Mini-Art Kit, Paper-Cut Banners, Shell Wind Chime, Hatching Drawing, Set Design, Clothing Paintings, Play Space Design Models, Recycled Robots, Paper Cut-Outs, Puzzles
FUNkidsART: FUNkidsART Spring 2012
Travel Sketchbook (bonus) · Sponge Prints · Foam Critter Clips · Monogram Drawing · T-Shirt Stencil Prints · Paper Mosaic · Totem Poles · Torn Paper Flowers· Painted Collage · Puzzles
FUNkidsART: FUNkidsART 2012 Calendar
13 Month Calendar featuring projects from FUNkidsART magazine. Make a snowflake wreath, glue felt finger puppets, construct paper pet sculptures, collage a scene using magazines, cut shadow puppets ... and more!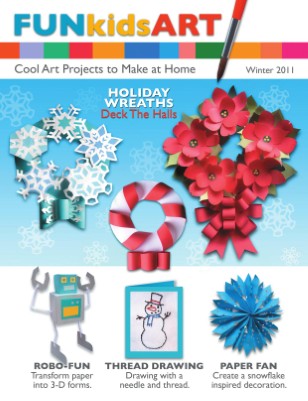 FUNkidsART: Winter 2011
• Make a Door Hanger • Make a Paper Snowflake • Draw with Thread • MAke Collagraph Prints • Create a Carnival Mask • Construct a Paper Robot • Make a Chinese Lantern • Decorate with Wreaths
FUNkidsART: Autumn 2011
• Make Shadow Puppets and a Glass and Wire Luminaria • Draw Gourds • Create Colorful Pattern Portraits • Make a Paper Spider Sculpture • Add a bag tag to your Backpack • Mold a Clay and Paper Bowl • Construct a 3-D Paper Mask
FUNkidsART: Summer 2011
• Make felt finger puppets • Collage a sand castle • Draw oil pastel landscapes • Design your own Mexican bingo game • Paint a two-sided tropical seascape • Paint animals with watercolors • Print copies of your very own zine • Construct a cardboard puppet theater
FUNkidsART: Spring 2011
• Fold Paper Containers for Materials • Create Foam Refrigerator Magnets • Draw a Doodle in Multi-Colors• Construct Recycled Insect Sculptures• Make your own Hand-Carved Stamps• Construct a Paper Mache Box• Tear Paper into a Collage• Bend and Fold Paper Pet Sculpture
FUNkidsART: FUNkidsART 2011 Calendar
13 Month 2011 Calendar featuring projects from FUNkidsART magazine! · 3-D Snowflakes · Pop-Up Card · Wooden Figures · 3-D Paper Flowers · Sticker Collage · Felt Tote · Duct Tape Kite · Mail Art · Recycled Sketch Book · Lift-The-Flap House · Leaf Printing · Clay Gingerbread House Bonus: · Metal Snow...
FUNkidsART: Winter 2010
Awesome New Projects for Kids of All Ages! • Create a Metal Ornament • Make a Winter Wonderland Pop-Up • Construct a 3-D Paper Snowflake • Draw Your Shoes with an Ink Pen • Collage a Black & White Portrait • Design a Dragon Hat • Sculpt a Clay Gingerbread House
FUNkidsART: Autumn 2010
• Make Art Cards to Trade and Collect, • Weave Paper Placemats, • Draw Sunflowers with an Ink Pen, • Construct a Paper Jack-In-The-Box, • Collage a Lift-The-Flap House, • Print Leaves on Paper, • Build a Paper Room Model, • Create a Toy Theater to Play at Home
FUNkidsART: Summer 2010
Make a Duct Tape Kite, Build a Wooden Figurine, Create a Sticker Collage, Make Art to Send in the Mail, Sew a Tote to take to the Beach, Discover how to use Oil Pastels, Create a Board Game of an Imaginary Land & more!
FUNkidsART: Spring 2010
FIRST ISSUE! • Make recycled books • Transform paper into 3-D flowers • Stitch mini stuffed animals • Create collages in two different ways • Learn to draw black & white doodles ... & more!